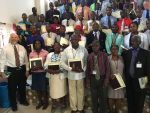 Support our pastors training in Feb/March 2022
In Feb/March 2022, we plan to offer TWO training conferences in TWO cities in Haiti. Partner with us in encouraging, training and resourcing church leaders there! Hear a Haitian pastor's thoughts on PPI training:
Will you help us encourage, equip and resource 110 more church leaders in Haiti? Give toward the Gonaives conference below.
Partnership of Pastors International is a 501(c)(3) nonprofit organization. Your gifts are eligible for tax deduction.