I was in Dallas/Fort Worth last week and ran into a long-time friend and missions colleague. What a joy! Andrew Spurgeon and I found each other at the Evangelical Theological Society conference in Fort Worth. I've been a member of ETS since my student days at Dallas Seminary and have been fed and challenged through the years by the Society's commitment to Scripture and serious biblical/theological study. This year's theme "Wealth and Poverty" particularly got my attention in light of our work in Haiti.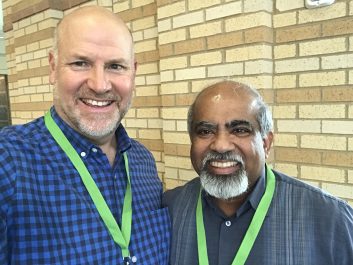 Andrew and Lori and Rena and I met at seminary many moons ago (we looked a little different then!) and quickly realized we were part of the same church in Mesquite. Not long after, we started a home group together and grew together in the Lord as good friends in Christ.
Andrew and Lori are special servants of God. After graduating from DTS, they taught for many years at a Bible college in India and now serve in Singapore. Andrew has written and edited a number of books and commentaries from an Asian Christian perspective. He also serves as an adjunct professor at Dallas Theological Seminary.
I also spent time with our daughter Katie, another special friend in Christ! Many of you know that Katie is in her second year of study at Dallas Theological Seminary, pursuing a master's degree in evangelism and apologetics. She worked out a part-time remote position with her company in Ann Arbor. The Lord is providing for her and leading her in her next steps in Jesus' mission. Katie loves God with all her heart, mind and strength and desires to be used by Him. We are so proud of her!
I'll always be "Dad" to Katie and our boys, but as they grow as young adults, we also have become friends, peers and increasingly colleagues in Christ. Katie and I had a lot of conversation about Scripture, theology, life and church as we enjoyed a day in Fort Worth. She's a BFF and definitely my favorite daughter (you'll get that later). Rena and I have no greater joy than to see our children – and now our two grandchildren – walk in Truth (3 John 1:4).
I'm so thankful for good friends in Christ, including all of you! What are you especially thankful for this Thanksgiving season?