The first 110 packages of food have been given to Christian families in Ouanaminthe, Haiti. We're planning to provide more food by the end of May. Thank you for helping us make it happen! Watch a video update HERE.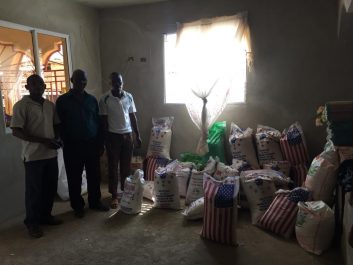 Our lead pastors, Esaii, Jasmin and Philogene, worked hard to purchase and organize the bulk food. Then they distributed the food packages to pastors and churches in their Pastors League and Pastors Association. <<DONATE HERE>>
Pastor Esaii told me that his house church was coming over on Tuesday morning to pray together. This is their regular time of prayer. After their prayer time, each family would receive a package of food. They thanked the Lord for caring for them and answering their prayers!
Pastor Jasmin wrote:
Yesterday [Tuesday], all the pastors association are happy to receive the food. They thank you a lot with all the people who contribute. They asked God to always bless you and protect you against the pandemic. They say that the best friends are those who help you when you are in need. You think of us in Haiti. We consider that a gift from God through you. We all thank you, and may God bless you all!
PPI is committed to providing all the nutritious, nonperishable food we can through the COVID-19 crisis in Haiti. Most experts believe the worst is yet to come for our friends there. READ a recent Washington Post article on the coronavirus threat in Haiti.