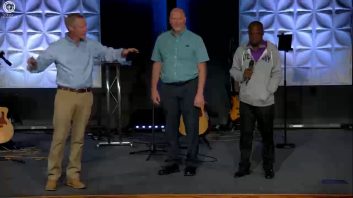 Where is Pastor Isaiah? Grace Fellowship Church in Kinston, North Carolina, was the final stop on our East Coast travels. Last but certainly not least! Grace Church partnered with PPI in 2019 – our first supporting church – and has greatly encouraged us. We stayed with our friends, the Kecks, who now live in New Bern, an hour's drive from the church.
On Sunday, we set up our PPI info table before updating the congregation and preaching in Grace's two worship services. Listen to Ken's sermon, "Make Some Noise," HERE. After church we enjoyed lunch with Pastor Kent, his family, and a number of Grace friends. On Monday afternoon, we joined Pastor Jason on his Encounter Grace podcast to talk about Haiti and PPI's work there.
Thanks again, Grace friends, for your warm welcome and faithful partnership!