Together for Haiti
Do you realize that the Lord is using US TOGETHER to build up His church in Haiti? That's a humbling and exciting thought – and it's true.
Many pastors tell us that PPI training has helped them focus on preaching and teaching God's Word instead of their own opinions. They also tell us they're encouraged to lead their churches with wisdom and humility. As a result, pastors are seeing their churches grow in number and in maturity. They're working together in their cities. And they are seeing more clearly the link between helping their communities in practical ways and sharing the good news of Jesus.
In 2022
Through your faithful prayers and financial support, the Lord enabled us to:
Lead 8 training courses in 3 Departments of Haiti

Train just under 800 church leaders (who influence around 10,000 people through their ministries)

Award 450 Thompson Bibles in Course 1

Distribute 1450 Creole Bibles in all our courses
Praise God!
Not without cost . . .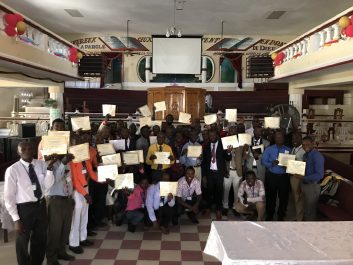 All that despite significant cost increases these past two years. Thompson Bibles (including shipping and Haiti customs) have gone up 25%. Our cost for Creole Bibles has risen 30% over last two years – when we can get them. Airfares, ground transportation, lodging, conference lunches in Haiti – everything now costs us more. Yet the Lord is providing for this mission through all of you, and we're figuring it out.
And it's worth it! What price can we put on offering training to pastors who lack access to good ministry preparation? What is the value of providing Bibles for Haitian believers in their heart language? Priceless!
Let's keep on building together in 2023!