I have to tell you about this! Esau and I got back to Michigan late last night after a week of meeting with potential PPI supporters in the Mid-South. A good week. During breakfast, Rena asked Esau if his family and friends in Haiti could use other items. He mentioned backpacks for families.
After breakfast, Rena took Esau to our garden at my parents' house – Esau is very interested in gardening – while I finished a presentation of PPI for a church we'll be at tomorrow. Before diving into slides, I took a walk around our neighborhood to listen to worship music and pray. I trekked my usual route, around White Pine Middle School and past the dental and medical offices on Colony Drive. I noticed a pop-up tent and some people in the parking lot of one dental office, MI Smile Journey.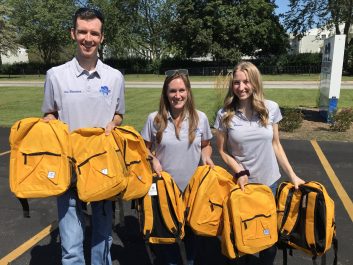 "Need a backpack?" two young women called to me as I was walking by. "Wow! Cool, Lord!" I thought. I said, "No. But I know some people who do." I told them about Esau, Haiti and PPI. Ten minutes later I was back with my truck, and Dr. Michael Thomas and his staff loaded 16 backpacks filled with school supplies into my truck.
A great big THANKS and shout out to Dr. Thomas and his enthusiastic staff for their care for our community and also for families in Haiti!
And a great big THANKS to our good, good Father who knows the needs of His children and answers our prayers even before we ask. Wow! Cool, Lord!