In His last hours on earth, Jesus didn't waste words. In John 14-16 (called Jesus' "farewell discourse"), the Lord tells His disciples about the special coming and work of the Holy Spirit, and He urges them to pray, specifically to ask. Ten times, the Lord encourages us to ask. Ask the Father. Ask in His name. Ask for anything with three purposes in mind:
That the Father may be glorified in the Son (John 14:12-14)
That we may bear much and lasting fruit (John 15:7-8, 16)

That our joy may be full (John 16:23-27)
Wait. What? Ask for our joy? Yep! Jesus urges us to ask that we may be filled with joy.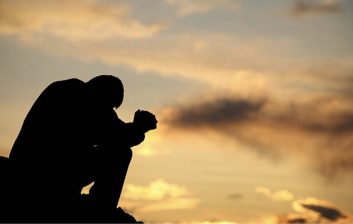 As we prepared to launch PPI in 2019, the Lord directed me to study John 14-17 and focus on asking Him in prayer. (This study later resulted in a sermon series at First Baptist – Bad Axe called ASK.) The Lord Jesus taught these three purposes to help us align our hearts then our requests with what matters for eternity.
"Father, I'm asking for [this specific request] so You will be glorified and so I can bear much fruit, proving to be your disciple. And I'm asking for this because it would fill me with joy! I believe this is what Jesus would ask for so I'm coming to You in His name."
What are you asking God for right now? Ask Him with these three purposes in mind. Our Savior told us to pray that way – for His glory and our joy!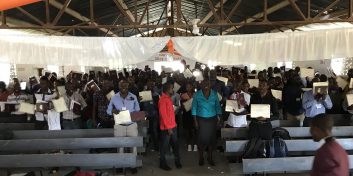 I often wish I somehow could capture the joy that pastors express on the last day of our training. It's more than a sense of accomplishment – the dignity of earned success – though it includes that. It's a Spirit-given joy of church leaders who have read and wrestled with God's Truth in fellowship with other brothers and sisters in Christ. And it's our joy as a ministry team as we gather pastors together to encourage them in Christ and point them to the life-giving, church-strengthening, community-changing Word of God.
I trust it's your joy, too, as you send us to the front lines to encourage and train pastors in Haiti! A young Haitian pastor said it well in his note to me last week:
Good evening my dear friend Pastor Ken. Hopefully everything is very great for you and your beautiful family. This is one of your friends from the conference in Quartier Morin. Be blessed, and we still don't have words to describe our joys concerning the Bible Thompson. Thank you for your courage, and may God keep blessing you and the Team PPI. (Pastor Noel Héralès PNH)
What a privilege for all of us to be used by God to give joy to church leaders in countries like Haiti!