"In our country the government doesn't help us," a Haitian pastor told me earlier this week. "People are starving." Partnership of Pastors is providing 150-160 more packages of food this week to families in Ouanaminthe. Pastors there so appreciated the 110 food packages we provided in mid-May. Hear Pastor Philogene's thank-you HERE.
Each package will feed a family of four for about two weeks. The packages contain rice, corn meal, black beans, flour, sugar, canned milk, spaghetti noodles, tomato sauce, and cooking oil. These are nutritious "staples" that Haitians use in many of their meals – when they can get them. "And chicken is much too expensive right now," a pastor told me laughing.
Also this week, PPI provided 234 Creole Bibles to churches in Ouanaminthe. The Bibles were trucked from Port-au-Prince and reached Pastor Esaii's house on Monday. They will be distributed at no cost through the Pastors League and Pastors Association, our ministry partners. DONATE HERE to help us provide more food and Bibles in Haiti.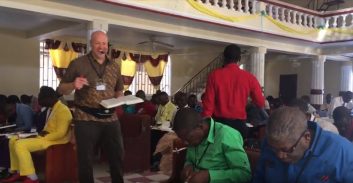 Please continue to pray for our Father to provide for our dear brothers and sisters in Haiti. Pray that God protects them from coronavirus and gives them open doors to share the hope of Jesus with others in their neighborhoods. More people are coming to the churches in this crisis. Pray that the Lord will stop the spread of COVID-19 so that Haitians can provide for themselves AND so we can get back there soon to continue training church leaders! CLICK HERE to get more info on partnering monthly with us to train and resource church leaders in Haiti and other developing countries.
A Haitian pastor wrote me this week:
"Thank you so much for saving people's lives by training them in the Word of the Lord, providing foods for them and Bibles. May God richly bless you . . ."
Thank you to all of you for remembering your brothers and sisters in Christ in Haiti!
They asked us to remember the poor, the very thing I was eager to do. Galatians 2:10