If you don't have training, you cannot teach other people. . . This training gives us good tools for the advance of the Word in Haiti. (conference attender – pastor)
We are so happy for the privilege God gave us to participate in this training . . . to use the Thompson Bible. (conference attender – woman church leader) WATCH this testimony
We concluded our 16 hours of training of 103 church leaders last week with the Seremoni Fini ak Rekonesans (Final Ceremony and Recognition). These church leaders – men and women – overflowed with joy and anticipation. They had worked hard all week, learning to use the Thompson Bible to shepherd their people on the solid foundation of God's Word. Now they would receive a certificate of completion and (at last!) their own Thompson Bible. (They had received Creole Bibles, Jesus' Film DVDs, and gospel tracts on previous days of the conference.) They were excited!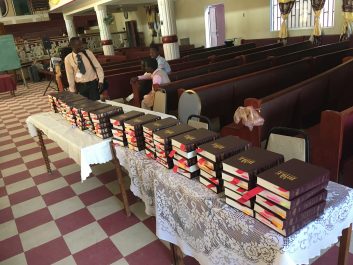 Before receiving their certificate and Thompson Bible – the crowning moment of the Seremoni – the pastors sang (LISTEN HERE), prayed, shared thoughts about the training, and gave an offering to provide Thompson Bible training for other pastors in Haiti.
Our coordination team – Americans and Haitians – worked hard behind the scenes. We double-checked registrations, prepared nametags and Bibles,
bundled thousands of gospel tracts, and sorted medicines. We prayed, welcomed church leaders, encouraged them, and aided them in their assignments. We got to know them – and a number of children who lived around the host church – enjoyed their fellowship and grew to love them. What a privilege to spend time with Haitian brothers and sisters!
THANK YOU for praying for this conference. THANK YOU for investing in Thompson Bibles, Creole Bibles, medicines, our team expenses, and all the conference materials. You have partnered with us in Jesus' mission among the poor. Thank you! Pastor Jasmin thanks you – WATCH HERE.
On to Ouanaminthe, Haiti on July 10-17! As one pastor encouraged us last week:
The work you have done here is not finished . . . You have contributed to the Kingdom of God. I ask you to continue this work.
CLICK HERE to support our next pastors training in July.
**Would you consider becoming a MONTHLY PARTNER with PPI? CLICK HERE for more information about that.