A person plans his course,
but the

Lord

directs his steps. Proverbs 16:9
When your plans don't work out, the Lord may be re-directing your steps. Go with it! We plan our day. We make plans for the weekend and for next week. We have plans for our children and our jobs. We talk with financial planners, and we talk with the Lord about our plans. But sometimes things change, and our plans don't work out. How do we respond? We can get frustrated and irritable when our cheese moves – or we can recognize that the Lord is directing our steps and go with it! We can give up and say, "The Lord must not want me to do that" – or we can see the Lord pointing to another (better?) way to do it.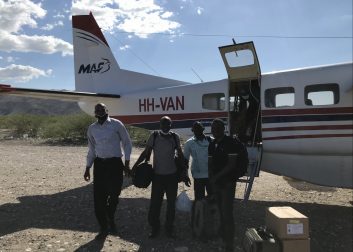 The day after I returned from Haiti in February, I received a letter from Missionary Aviation Fellowship (MAF). (As you know, we use MAF for in-country flights in Haiti – not to be confused with Missionary Flights International (MFI), which we use for shipping Bibles and training materials into Haiti from the USA.) MAF informed us that they are stopping flights in Haiti from April 1 through January 2024 because of security problems in Port au Prince. MAF plans to move its operations out of Port au Prince and, hopefully, will resume in-country flights in February. Pray for them and for all who fly with them in Haiti, including us!
We had planned to offer Course 1 in two north coast areas, Port de Paix and La Tortue, next week, but had to change plans when MAF canceled our flights there. Our Haitian team believes the road is too dangerous for us to drive the seven hours from Cap-Haitien to Port de Paix (see map). So our team prayed, talked and decided to offer Course 1 in Cap-Haitien and Limbe, a town just west of Cap. Neither city requires MAF flights to get there safely.
Our plans have changed, but we see Lord directing our steps! Church leaders in Cap have been asking us for Course 1 again, and our team has talked about offering training in Limbe for over a year. Although we had to shift gears quickly, we're excited to train church leaders in these two strategic cities! Despite having our wings clipped (MAF stopping flights), we know the Lord intends for us to press on in encouraging, training and resourcing pastors in key cities in all ten Departments in Haiti.
I've often wondered how the Holy Spirit guided the Apostle Paul away from Asia and into Macedonia. Acts 16 tells us that God literally directed the steps of Paul and his mission team:
They were prevented by the Holy Spirit from speaking the Word in Asia (16:6)
The Spirit of Jesus did not allow them to go north into Bithynia (16:7)
So instead they went on . . . to the seaport of Troas (16:8)
How specifically did the Holy Spirit "prevent" them from preaching the gospel in Asia? How exactly did they know the Spirit of Jesus was "not allowing" them to travel north to share His good news? Did God speak to them in a dream each time? Did circumstances prevent them? We're not sure. We are sure they were running out of real estate and options. They needed the Lord to direct their steps, and that's exactly what He did:
That night Paul had a vision: A man from Macedonia stood and pleaded with him, "Come to Macedonia and help us!" After that, we made plans to depart for Macedonia right away, concluding that God was calling us to preach the good news there. (16:9-10)
We didn't expect our plans to change, but we have concluded that God is calling us to offer Course 1 to church leaders in Cap Haitian and the new city of Limbe. We're going with it!
When your plans change, consider that the Lord may be re-directing your steps for your good and His glory.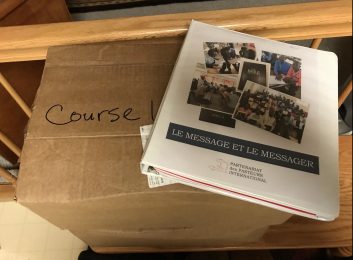 Speaking of Course 1, I recently put together a spreadsheet to track which PPI courses we have offered so far in Haiti – where and when. Since 2020 (the first year we "officially" offered PPI training courses), we have led Course 1 seven times in four key cities in Haiti. Praise God! We have offered Course 2 five times in three cities and Course 3 two times in two cities. Lord willing, we will offer Course 4 in Ouanaminthe in December.
By the end of this year, we will have offered Course 1 ten times in five key cities in Haiti. By the end of next year (2024), we will have offered all six ministry training courses in Haiti at least once. That's our plan anyway . . .
Thank you all for your faithful prayers and support as the Lord directs our steps!