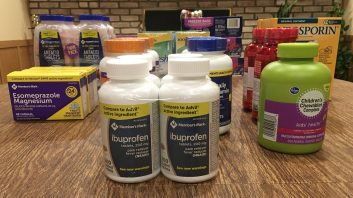 Head-ache, fever, infection, upset stomach, diarrhea and irritated eyes – these are common maladies in Haiti. But medicines are scarce, even basic over-the-counter meds that our families use every day. That's why Partnership of Pastors has committed to providing needed OTC meds to Haitian believers. THANK YOU for your special donations to help us purchase OTC meds for our February trip! You can still donate HERE.
Over the past two weeks, we have purchased several over-the-counter medicines needed in Haiti. In February, we will take:
2400 tablets – Ibuprofen
1060 tablets – Antacid
900 chewable multivitamins for children (gummies melt!)
825 multivitamins for women
825 multivitamins for men
480 cider vinegar tablets
200 containers of Refresh eye drops
126 capsules of 24-hour acid reducer
15 tubes of Neosporin
To help as many as possible, we'll put together around 600 packages of meds using small- and medium-sized Ziplock bags. Each package will have a label in Creole identifying the med, what it's for, and the proper dosage for adults and (if appropriate) children. Our U.S. mission team will carry all these meds when we fly to Haiti on February 21.
Would you help us package and label these medicines? Be part of our first PPI Volunteer Workday on Friday, January 17, from 6:00-9:00pm at our house (465 Mayflower Dr, Saginaw, MI). Come when you can and leave when you need to! Let us know HERE if you can come or if you have questions. Let's make this new year happier for more brothers and sisters in Christ whose basic needs consistently go unmet!