Three weeks ago, an earthquake devastated homes, churches and lives in southwestern Haiti, especially in the cities of Les Ceyes and Jeremie. A few days later, I suggested ways all of us could help and how we should think longer term about development in Haiti. (You can read that post HERE.)
I have encouraging news and an opportunity for us to help Haitians help Haitians.
First, PPI board member, Tony deBari, traveled to Les Ceyes, Haiti on Saturday to serve on Samaritan's Purse medical disaster response team. Many of you know that Tony is an accomplished orthopedic surgeon and has used his gifts all around the world to help those in disaster areas. Please pray for Tony and the entire medical team (pictured) as they work to help as many people as possible!
Second, Pastor Jasmin Joseph has rallied many believers and churches in northeastern Haiti to donate money for food, water and supplies for people in Les Ceyes and Jeremie. Pastor Jasmin is one of PPI's key partner pastors and coordinators of our pastors training.
So far Haitian churches have given around $2000 USD – a LOT of money by Haitian standards! No doubt many Haitian believers will go without food in order to help others. This money will be distributed for basic needs through churches in and around Les Ceyes and Jeremie.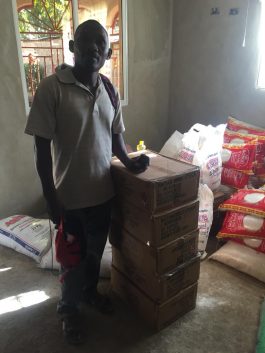 Pastor Jasmin asked me if Partnership of Pastors International would consider giving to increase that amount. YES! Yes, PPI intends to stay focused on our crucial work of encouraging, training and resourcing church leaders in Haiti. No, we're not able to give to every need every time. But at times of major need, God wants us to show mercy, not overthink it, and do what we can to help. We're convinced this is one of those times.
Will you help us help Haitians help Haitians? Pray about what God wants you to do, and when you're ready you can GIVE HERE.
Thank you for standing with fellow believers in Haiti, helping them help their people in need.