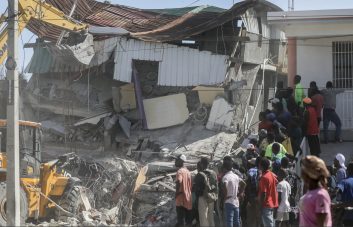 You probably heard: An earthquake hit Haiti on Saturday. At 7:29am a quake registering 7.2 shook the southern peninsula of the island nation. Five more aftershocks registering between 4.0 and 5.0 followed, devastating the cities of Jeremie and Les Cayes. Around 1.5 million Haitians have been affected by the earthquake. Over 1400 were killed.
How can we help? A number of you have asked what we can do.
PRAY for Haitian families and all those helping on the ground in the areas most affected by the earthquake. Our God cares for the poor.
Who is like the LORD our God, who is seated on high, who looks far down on the heavens and the earth? He raises the poor from the dust and lifts the needy from the ash heap, to make them sit with princes, with the princes of His people. Psalm 113:5-8
GIVE WISELY to relief efforts. Missionary Flights International (MFI) says it's best for relief organizations to buy needed supplies

in Haiti

in order to get them faster and to help the Haitian economy. MFI and Samaritan's Purse are two trustworthy ministries involved in relief efforts in Haiti. Unfortunately, too many "charities" take advantage of disasters like this to solicit money that rarely benefits those who most need help. Be discerning and give wisely.
INVEST LONGER-TERM IN REBUILDING the lives and communities of Haitian families. Emergency help is needed in southern Haiti right now, but what is needed a month from now? Three months from now? A year from now? Behind-the-scenes ongoing gospel-centered work to rebuild the lives and communities of Haitian families is the real solution to the pressing problems of Haiti – and other poor countries.
That's why we do what we do as Partnership of Pastors International! In a nation with little infrastructure or governmental organization, churches in Haiti have the opportunity to be "centers of life" in their neighborhoods – proclaiming the gospel clearly, discipling believers and leading efforts in nutrition, medical care, job training, etc. Involved churches led by godly, well-trained pastors are the answer to Haiti's problems.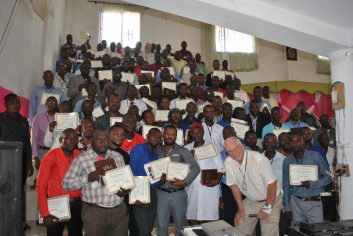 The problem is, church leaders in Haiti lack access to good ministry training and they lack ministry resources, especially Bibles. That's the need God has called PPI to do something about in Haiti. It's the behind-the-scenes ongoing gospel centered work that already is making a difference for Christ in cities where we have trained pastors and provided them with Bibles, God-Pleasing Worship books, gospel tracts, Jesus film DVDs, and other ministry resources. Your investments of prayer and giving make our ongoing gospel-centered work possible in Haiti. Thank you!!
If you're not already, we invite you to invest longer-term with PPI in the spiritual and practical rebuilding of Haitian families and communities. Would you consider becoming a monthly partner to help us purchase Thompson Chain Reference Bibles (our main training tool) and Creole Bibles? Will you help us print course workbooks and provide good ministry resources for our pastors training conferences? This is the best long-term Kingdom investment we can make in Haiti! DONATE HERE