Ready to roll up your sleeves to help Haitian Christians? You can at our PPI VOLUNTEER next Thursday, July 23, at 6:00-9:00pm at Pastor Ken and Rena's house (465 Mayflower Drive, Saginaw).
Serve Safely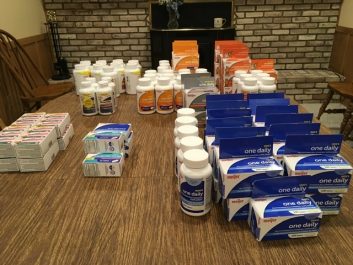 We will mask up, spread out and put together about 1200 packages of over-the-counter medicines for Haitian believers. We plan to ship these meds to Haiti in early August. Medicines that we use every day are scarce and expensive in Haiti.
If you were part of our PPI Volunteer Workday in January, you know that we will organize well and have a lot of fun! Time permitting, we also may prep church info packets and mailing envelopes. RSVP HERE to let us know you're coming.
Items Still Needed
Whether or not you can join us next Thursday, would you consider donating one or more of these items:
Antacid tablets

(like TUMS)

Anti-diarrheal

tablets (this is especially needed)

Ziplock snack bags

(we need 700 more bags)
1 gallon ziplock freezer bags

(we need approx 50 more)
Remember, nothing gummy or soft gel. These things melt. Thank you for helping families in Haiti! DONATE for items and shipping HERE