Rena and I have quoted James 4:15 a lot lately: If the Lord wills, we will live and do this or that. AD 2020 has been that kind of year for all of us, hasn't it? It certainly has for us!
A While Longer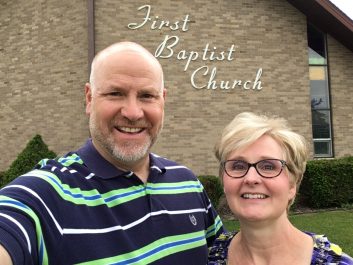 For starters, I will continue a while longer as the interim pastor at First Baptist Church in Bad Axe. The church has been actively searching for its next permanent pastor for the past 10 months. One final candidate withdrew from consideration, and the Search team decided not to go forward with the second final candidate. We trust the Lord's guidance in this – the search process is working! We restarted the pastor search last week and already have some good prospective candidates. Please pray for our Pastoral Search Committee and the congregation as we move forward together. If the Lord wills, FBC will call its next permanent pastor by early 2021.
Developing Support – A Little Slower
As we continue with First Baptist, we take joy in knowing the Lord is working out His timing for the church and for PPI! As planned, we will start developing church support for PPI in September – just a little slower. Instead of devoting full-time to contacting and meeting with churches this fall, we will do it part-time with focus on Michigan and the Midwest. We trust the Lord's timing in this change! Many churches likely need more time to regroup after the COVID-19 outbreak before talking with a new potential mission partner (us!). If the Lord wills, we will be able to meet with and partner with a number of churches this fall.
Family Time and Pastors Conference
We enjoyed some vacation time last week with our kids and our grandson, Hunter. Since our kids live out of town – like many of yours – these times are especially precious to us. We talked life, cooked food, swam, walked and played games. We enjoyed a day at Oak Beach in Huron County – one of our "finds" from living part-time in Bad Axe. We're so grateful to the Lord for our children and grandson! If the Lord wills, we will be together again for Thanksgiving and Christmas.
In early October – if the Lord wills – Rena and I will take part in a pastors conference in Colorado. We're looking forward to the time together and conversation with other pastors and missionaries. We are asking God to refresh and re-fire our hearts for the season of Kingdom work ahead. We desire to encourage, train and resource church leaders in Haiti and other developing countries – beyond what we could ask or imagine – if the Lord wills . . . Invest in pastors training HERE