Hurting Nations
In July, we had the privilege of leading two training conferences for over 200 church leaders in Haiti. A week before we planned to leave, corrupt leaders and mercenaries assassinated Haiti's president. We prayed, talked with our friends in Haiti, and decided to continue with our plans to go. Now especially pastors needed to be encouraged and equipped in God's Word!
When we arrived in Haiti on July 15, we came to a hurting nation. In the wake of President Jovenel's assassination, many Haitian Christians were frustrated and fearful, divided and discouraged. We understand that! When we left the United States on July 15, we left a hurting nation. Many Americans are still divided by our presidential election in November. So many of our people live in fear of COVID-19. Anxiety, domestic violence, and drug use are increasing in our communities. Christians in our country are frustrated and fearful, divided and discouraged.
The problems in our countries seem so great, and we are just ordinary people. What can we do to make a difference as followers of Jesus? What can we do as a church? What is God's answer to hurting nations?
Our Powerful Gospel
On the basis of God's Holy Word, I believe to my toes that the answer is the gospel of Christ, clearly proclaimed and consistently, compassionately lived out in our communities by groups of believers like us. The solution to the pressing problems in our nation as in Haiti lies in the church of Jesus Christ being on target and on task, making authentic disciples in our generation. Do you believe that?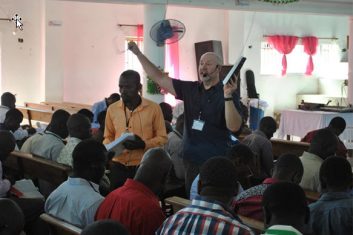 And that begins with godly, well-trained church leaders. Our vision as Partnership of Pastors International is to offer short-term high impact pastors training courses in accessible locations all across Haiti. Church leaders in poor countries lack access to good ministry training, and they lack access to ministry resources. That's the need God has called PPI to do something about.
Thank you for joining with us to accomplish this mission!
CLICK HERE to watch Ken's message, Our Powerful Gospel, at Marlette Baptist Church on Sunday.