We helped our daughter, Katie, move from Dallas to Columbus last week and, along the way, met some very cool people. Can I be Dad for a moment? We're super proud of Katie! While working in Ann Arbor, she engaged with young adults for Christ through her church, company and living situation. As she did that, she realized she needed more Bible training to effectively reach her generation for Christ. So, during COVID, Katie moved to Dallas to pursue a master's degree in Evangelism and Apologetics at Dallas Theological Seminary (my alma mater). The Lord gave her favor with her company, which allowed her to work part-time remotely for the last three years. This was a huge blessing to her. And recently, the Lord opened up an amazing internship opportunity for her at Dwell Community Church in Columbus, Ohio. Hence the move. 🙂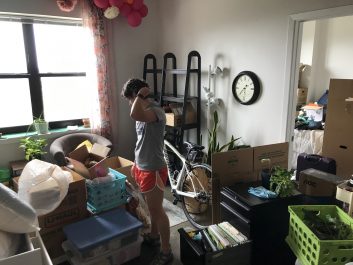 Before the heavy lifting, I got to hang around the seminary for two days to work and engage with old and new friends. I engaged with a number of American students on everything from what DTS was like when I was a student (!) to the Rapture to the "big picture" of the Bible. I especially wanted to hear their thoughts on the church and their part in Jesus' global mission.
Most students I talked with realize our churches need to get back to the basics of solid, contextual Bible preaching/teaching and personal, real-to-life discipleship. They see our temptation to over-emphasize Sunday morning worship services and under-emphasize equipping every believer to live effectively for Jesus in their homes and work places. They're more aware of our need to engage in Jesus' mission around the world, especially in poor and restricted-access countries. I came away from these conversations thanking the Lord for DTS and His good work in our next generation!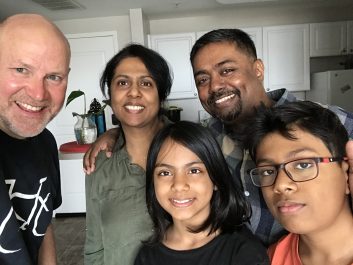 While working in the Student Center, I also met Sam Skaria, a pastor from India and, since January, a master's student at DTS. I learned that Sam and his wife, Febe, lead a network of churches in Bangalore, India. After 20 years of church planting and pastoring, Sam believes the Lord is leading him to go deeper in the Scriptures, Christian theology and church leadership. He told me, "I've been good at planting and growing churches. We have worked hard at that. But now I must grow more in making disciples and training church leaders." Amen! More and more, the government of India is passing laws to restrict even outlaw evangelical Christianity.
Sam invited me to have lunch with him and his family the following day. I enjoyed butter chicken and ghee rice with Sam, Febe and their two children. As experienced church leaders, we had good camaraderie and good humor about the ups and downs of pastoral ministry. Will you pray for these sweet servants of Christ as they settle into the United States and Dallas Seminary? Also, please pray specifically for Sam to land an on-campus job that will help with their living expenses.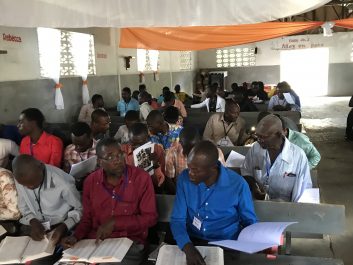 After getting back home, I talked by phone with Pastor Isaiah and Pastor Jasmin, key members of the PPI training team in Haiti. I love these brothers! We caught up on our families then finalized details for our next training courses in Haiti. We also looked ahead to 2024. Both told me that many pastors thank the Lord for PPI training and that so many pastors are asking about our training!
All this fills me with gratitude to our God and gives me hope. The Lord Jesus is building His church here and around the world! Friends, let's renew OUR commitment to:
Knowing and loving our Savior
Immersing in and obeying His Word
Boldly, lovingly living for His mission in our families, neighborhood and community
Praying for, encouraging and resourcing the next generation of Christian leaders