When we dismissed for lunch on Saturday, a pastor came to Esau and me to thank us for bringing Thompson Bibles and pastors training to Haiti. "Many said that we could no longer get Bibles in Haiti," he told us, because of the nation's political and economic difficulties.
What he said next gave me goosebumps. "A group of pastors prayed together here at this church," he told us. "After that, an older pastor who had prayed with us had a dream. He saw a plane landing in Haiti. As it landed, seeds came from it that were planted in the ground." The older pastor told the group not to worry. "God will send us Bibles for Haiti," he assured them. The pastor looked at Esau and me: "You are the answer to our prayers!"
The Lord is using many good ministries to get Bibles to Haitian pastors and churches. We are honored to be counted among them! As part of our training courses this week and next, we will award 112 Thompson Bibles in Course 1 and distribute 700 Creole Bibles to over 300 Haitian church leaders in all three courses. Pastors here like to give Creole Bibles to new believers when they are baptized to encourage them to learn all that Jesus commanded us (Matthew 28:19-20). We're excited about these strategic opportunities to help to plant the seed of God's Word in Haiti!
PPI does NOT just give out Bibles. We award a Thompson Bible and Creole Bibles to every church leader who attends every day of Course 1 and does his or her best on every assignment. Another pastor reminded us why this is important. He told us that a missionary had given him a Thompson Bible in 2004 but that he had had no idea how to use it all these years. His face radiated joy as he said, "Now I know how to use my Thompson Bible for the Lord!" We also give Creole Bibles to every church leader who completes PPI Courses 2-6.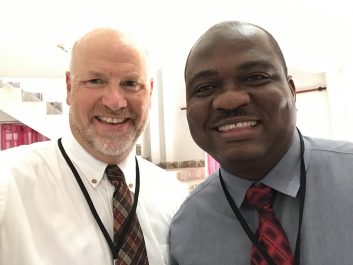 Pastor Pierre (pictured) was so excited to take PPI Course 1 – The Message and the Messenger. He told me that he had pastored in La Romana, Dominican Republic, for seven years before returning to Haiti to lead a church in Ouanamiinthe. He asked if we could consider offering PPI training to the many Haitian church leaders there. "Pastors need this training in La Romana," he said. I told him that, as the Lord provides funding and opens doors, we will.
We traveled to Cap Haitian yesterday (Sunday) after worshipping with Esau's church (more on that in a future post). Please pray for us as we begin Course 2 today with church leaders here.