We have an amazing opportunity right now. Will you help us take advantage of it? We have a chance to buy Thompson Bibles at half-price – $25 per Bible versus our regular price of $50. GIVE HERE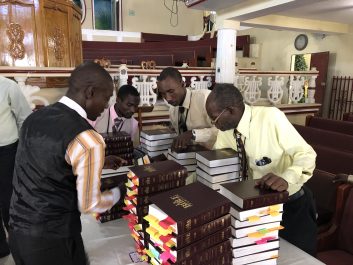 As you know, the French language Thompson Chain Reference Bible is our main training tool for church leaders in Haiti. It is not only a good translation of Scripture, but it is also a "mini-library" of study tools that help pastors understand God's Word and communicate it clearly to others.
But it's expensive. We typically pay $37-$39 for each Bible before shipping. And our Bibles' journey from France to Canada to Florida to Haiti adds another $10-$12 per Bible to their cost. By the time our Thompson Bibles arrive at our training location in Haiti, we have invested $50 per Bible – or more.
Enter MLM and ETS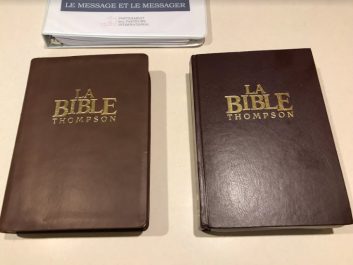 We order our Thompson Bibles through Multilanguage Media (MLM), a ministry based in Philadelphia that prints and distributes Bibles and Christian literature around the world. We have worked with MLM for the last 11 years to purchase Thompson Bibles and other ministry resources for church leaders in Haiti. MLM is a fantastic ministry! Check out their website HERE.
Tim Hurd from MLM called me two weeks ago very excited! He wanted to recommend us to Equipping the Saints (ETS), another ministry long affiliated with MLM. ETS planned to purchase several hundred French language Thompson Bibles. Tim told me that by "tagging long" with ETS's purchase PPI may be able to get Thompson Bibles at a deeply discounted price.
I was interested! I contacted Keith Jones at ETS that afternoon to get acquainted and explore the opportunity. Keith is the founder and Executive Director of ETS (learn more about ETS's ministry HERE.) Over the last two weeks, several emails and a few more phone calls, this amazing opportunity materialized. By buying Thompson Bibles together, PPI can purchase Thompson Bibles right now at half-price.
264 Thompson Bibles
We're going for it! My plan is to purchase 264 Thompson Bibles at $21 per Bible plus shipping. 264 is the minimum number of Thompson Bibles we need for our three (3) planned training conferences in Haiti in 2022. We already have the 160 Thompson Bibles needed for our two training conferences this July in Haiti.
Given the size of our combined order, we're able to get the Bibles shipped directly from France to MFI in Florida. MFI (Missionary Flights International) flies our Bibles to Haiti. That significantly cuts our shipping cost. I'm estimating our total cost to be $25 per Bible.
Will you help?
Will you help us take advantage of this opporunity? Would you consider a special gift so that we can buy these 264 Thompson Bibles at $25 each? DONATE HERE
I resonate with the Apostle Paul's words this morning:
Pray for us, that the Word of the Lord may speed ahead and be honored [in Haiti], as happened among you. (2 Thessalonians 3:1)
Thank you for praying for us and standing with us!