Spending time with Haitian church leaders and working with our Haitian ministry team is more fun than a person should be allowed to have! But I thought you also might enjoy some fast facts, smells, sights and sounds from this trip to Haiti.
Fast Facts About This Trip
Dates – Feb 20-March 4, 2022
# cities – 2
# pastors trained – 223
# hours of instruction – 36 (18 hours per course)
# Thompson Bibles awarded – 223
# Creole Bibles given – 500
# God-Pleasing Worship books given – 230
# evangelistic tracts given – 1000s!
# lbs Ken lost – about 10 🙂
Grits – Haitian Style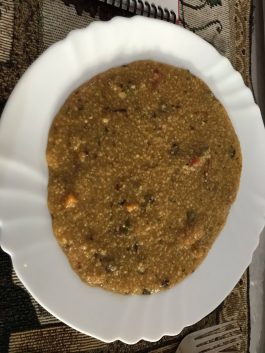 I grew up with grits, you know, the white hominy breakfast food. Called mayi ("corn") in Creole, these grits were made over a charcoal fire, seasoned with Haitian spices with bits of shrimp thrown in for good measure. Your mama never made grits like this – and they are tasty! Other breakfast foods are spaghetti without sauce but spiced well, ze (eggs) served with lettuce, sliced tomatoes, onions and green peppers. This latter was my go-to to keep my stomach in order. I've learned to eat light when I go to Haiti – a little breakfast with coffee and a small lunch of chicken and rice. That keeps me healthy and happy through the days of training!
Coastal – and Vulnerable – City
Gonaives lies on the northwest coast of Haiti about 100 miles from Cuba and is the capital of the Artibonite Department. This city of 300,000 people sits on flat land at sea level, making it vulnerable to hurricanes and their resulting tidal waves. In 2004, Tropical Storm Jean sent a storm surge 10 miles inland that flooded the entire city and killed 3000 people. Church leaders still talk about it. Gonaives also is known as the birthplace of Haitian independence because Haitian slave leader, Jean-Jacques Dessalines, read Haiti's declaration of independence from France on January 1, 1804. Haitians celebrate their independence day by eating simple, tasty soup called joumou that commemorates their humble beginnings as a nation.
A Haitian Fable
I've heard this Haitian tale more than once and heard it again this week. It makes a point worth pondering.
An old man was traveling with his two children and his donkey. He decided at first to put his children on the donkey since they were young. But people in the first town said, "That's not smart. Why let your children ride while you walk? They're young and strong, and you're old." So the old man continued his journey to the next village, this time riding the donkey himself and letting his children walk. But people in the next village said, "That's not smart. Why are your children walking? They're young and fragile." So the man seated the children on the donkey with him and continued his travels. When he arrived in the next village, people said, "Ah, the poor donkey. This animal can't carry all three of you so far." So the man and his children got off the donkey and they walked on, leading the donkey as they went. But people in the next village criticized him, too. "That's not smart! Why have a donkey if you can't ride it?"
Moral: Whatever you do, someone will disagree so just do what is best and ignore the criticism.
Hazards of Longer Church Services
Haitian church services typically run two hours or more, with a 30-minute sermon coming at the end. As we hung out last night sharing "pastor stories," Ulrick made us all laugh. He told us that a guest pastor came to his church one time, and as the singing went on, the pastor fell asleep. When the time came for him to preach, Ulrick woke him up. The sleepy sermonizer stepped to the pulpit, prayed briefly and told the congregation, "You're dismissed!"
My First Stop in the USA
I landed in Fort Lauderdale, Florida a couple hours ago. While I love so much about Haiti, especially time with church leaders, I still appreciate the "perks" of living in the USA. 🙂