Trouble requires response. Need creates opportunity. That's why we're in Haiti right now doing what God has called us to do – encouraging, training and resourcing pastors.
Most of you know that Haiti's president, Jovenal Moise, was assassinated a week ago and many are concerned about unrest and violence here. Haiti closed its borders and airports for a few days. Mission and humanitarian trips were canceled. But on Thursday morning our team of five flew into Cap Haitien, Haiti. We will be here for two weeks to lead two pastors training conferences in two cities.
Why are we here? Because trouble requires response. Because need creates opportunity. Because our Lord and Leader provides for and protects those actively involved in His mission making disciples of all nations. He promised, "I am with you always even to the end of the age" (Matthew 28:20).
This wasn't a cavalier decision. The increased risk is real – and a little frightening. We are in contact with Haitian friends and American mission friends in Northeast Haiti, where we'll be. So far all is calm, by Haiti standards. We are taking extra precautions to keep a low profile while we're here. I have contact information for security guards if we need them. In short, we are doing our best to be wise and extra careful.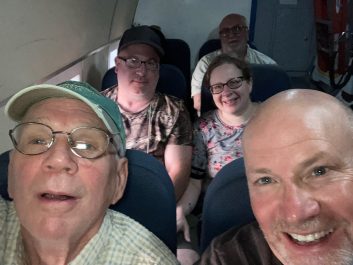 But this is the time to be here! This time of trouble and uncertainty in Haiti is an opportune time to encourage, train and resource church leaders for the days ahead. Pastors need encouragement! Church leaders want good training! Churches need good ministry resources! And, frankly, if you and I wait for a "safe time" to be part of the Lord's mission in most developing countries, we'll never go.
So we take measured risks for the sake of the gospel. With both eyes open, we refuse to save our lives, only to ultimately lose them (Matthew 16:24-26). Instead we lose our lives for our faithful Savior who gave His life for us. In that alone, we find real life and lasting joy
Please pray for us these next two weeks. Pray for the Lord to protect us so that we can fulfill His calling here. Pray for the Lord to free us from fear and fill us with faith and joy as we lead the training conferences and interact with Haitian brothers and sisters. Pray that we will grow in our love for God and faith in His promises to us for this one short life He gives us.
Would you consider investing with us in training pastors in Haiti? CLICK HERE