Happy New Year, everyone! Rena and I stayed up last night to greet the new year. We don't always do that, but we wanted to make sure that 2020 really left the building. We wanted to lock the door behind it then look out the windows to make sure the old year wasn't hiding in the bushes trying to get back in. "I'm back!"
Like you, we're looking forward to this new year! Yes, the pandemic is still with us. Yes, churches and businesses still struggle. Yes, hordes of cicadas likely will invade the United States this summer. (Have you heard about Brood X?!) But we have good news. God the Son visited our planet to reconcile all things to himself (Colossians 1:19-20). He gave His own life to make that happen, then rose again to demonstrate His absolute power over all the effects of the Fall – including pandemics, economic downturn, and nature gone wacko.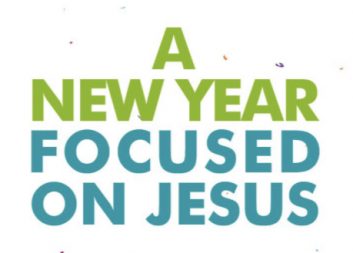 Most importantly, Jesus died and rose again to rescue and restore you and me, who apart from Christ's saving work would live without God and without hope. He now leads His church in the world to do all that He began to do and teach (Acts 1:1). He sent the Holy Spirit to reside within us and empower us to live out His mission. He is coming again to take us Home to live with him forever. Now that's good news!
Our forgiveness, our joy, our hope are found in Christ alone. Martin Luther, who faced his fair share of upheaval in life, wrote:
Though this world, with devils filled,
Should threaten to undo us,
We will not fear, for God hath willed
His truth to triumph through us.
God hath willed His truth to triumph through us. And in us. The truth of the gospel, the good news.
Let's focus on the good news of Jesus in 2021. There's enough bad news around to frighten and frustrate us every day. Hear me: In light of eternity, it's background noise. We can't let bad news distract or discourage us. We have a higher calling – to live out and shout out the good news of forgiveness and hope in the only Savior Jesus Christ. That's the calling of every Christian. It's your calling and my calling.
And it's our joy! God continues to grow Partnership of Pastors International and to give us opportunities to encourage and train pastors in the good news of Jesus. Through your prayers and generous giving, the Lord gave us an amazing first year of ministry. And we anticipate even more Kingdom fruit and greater impact for eternity in 2021!
We are convinced that the good news of Jesus, well lived and rightly proclaimed by godly church leaders, is the real hope of Haiti. The gospel of Jesus brings about heart change, which leads to life change then family change then neighborhood change then city change then nation change. That's the hope of Haiti – and the hope of the United States. That's why we do what we do as Partnership of Pastors International.
Thank you for standing with us! We invite you to continue to invest with us in 2021 as we encourage, train and resource church leaders in the good news of Jesus Christ.