I kept this under wraps until we knew one way or the other: We almost had to cancel our next pastors conference in Haiti because we couldn't get Thompson Chain Reference Bibles!
Main Training Tool
We work hard to offer our conferences with excellence. We do this to honor the Lord first and foremost. We also do it to honor church leaders in developing countries and raise their expectations of the eternal value of this training. So we pay attention to details – Bibles, course workbooks, registration forms, nametags, lanyards, pens, audio, lunches, etc.
If we had to, we could do without many of these things and still encourage, train and resource pastors. But we CANNOT do without Thompson Chain Reference Bibles! This Bible is our main training tool, and the Bible to which our course workbooks are keyed. No Thompson Bibles, no training. Give toward Thompson Bibles HERE
Winding Path to Haiti
Our Thompson Bibles in French take a winding path to Haiti. We purchase these Bibles through Multilanguage Media (MLM), an international Christian literature distributor based in Philadelphia. MLM buys the French Thompson Bibles from Vida Publishing, based in Paris (yes, France), which then ships the Bibles to a French bookstore in Montreal (yes, Canada) called Diffusion Vie. Diffusion Vie ships our Bibles to Missionary Flights International (MFI) in Florida. MFI then puts our Bibles on a plane to Cap Haitien where our pastor partners pick them up and carry them overland to the next location of our PPI pastors conference, in this case Gonaives, Haiti. Make your head spin? Mine, too!
COVID-19 Delays and Then . . .
I ordered 104 Thompson Bibles four (4) months ago to account for COVID-19 delays. When I called MLM just before Christmas to check on our shipment, the good people at MLM assured me that they would track down our 13 cases of Thompson Bibles. Not to worry.
After New Year's, I began to be concerned. Where are our Thompson Bibles? I asked some of you to pray and worked with MLM to locate the shipment. Last Thursday morning, MLM called me. Good news! Diffusion Vie (the bookstore in Montreal) had received the Bibles from France and would ship them to MFI in Florida the next day. Relief and praise!
MLM called again the next day. Bad news! Diffusion Vie believes that Vida Publishing shipped the wrong Thompson Bibles. The ISBN differs from our usual Thompson Bible. The covers are different. Is the content different? That was the make-or-break question. Our course workbooks are keyed to a certain French language Thompson Bible – version, page numbers, topic numbers, everything. We could live with different covers, but all the content of the Bible – every detail – had to match the burgundy hardcover Thompson Bibles we always use for our training.
Otherwise . . . Otherwise we would have to cancel the February training in Gonaives and reschedule it for another time when we had the right Bibles.
Problem Solved!
We continued to pray earnestly. Tim at MLM and I began to work the problem. Let's get the shipment to MFI (Florida), have them open a box and see if the cover is indeed different from our regular Thompson Bible. Then we'll know.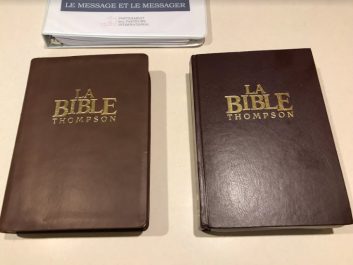 The cover was different – brown imitation leather instead of burgundy hard cover. Okay, let's have MFI overnight a Bible to me from Florida so that I can compare the content in detail with my burgundy cover Thompson Bible.
The package arrived Tuesday evening from Florida, and Rena and I compared detail after detail of the Bible with the Thompson Bible I use to lead our training. We worked through our Course 1 workbook and compared page numbers, topic numbers and wording.
Everything matches! The content of the "mistaken" Thompson Bibles is exactly the same as our "regular" Thompson Bibles. I was in tears. I shouted! We thanked the Lord! I took some pictures to share with you so you can give thanks to the Lord, too.
Many Obstacles, Much Fruit
We have faced many obstacles to offering this pastors conference in Gonaives, Haiti in February. I shared one significant obstacle here, but I could share others. (And another significant obstacle arose later that night.) It is clear to me that the Evil One is doing all he can to stop us from encouraging, training and resourcing church leaders in Gonaives. But our risen and exalted Savior has promised to be with us as we make disciples of all nations (Matt 28:20). He promised the power of His Spirit as we bear witness to His truth (Acts 1:8). The devil is no match for the Lord. With one word, Jesus will send him packing!
Charles Spurgeon once said that he had learned to welcome hardship and obstacles to his ministry because they foreshadow the Holy Spirit giving much fruit. That's what we pray for in Gonaives in February! That's what we work for through the grace of God given to us. Help us provide Thompson Bibles to pastors HERE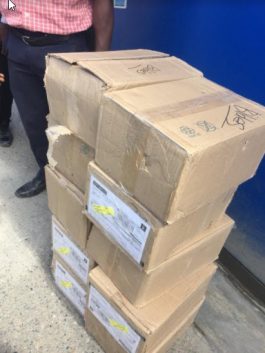 Please Pray
Please pray for this conference. Ask the Lord to help us work through the obstacles. Ask the Lord to protect our U.S. team and the church leaders who come to the training. Ask the Lord to fill us with His Spirit – with courage and joy and love – as we encourage and train these dear pastors in Haiti. Ask the Lord to give the fruit of understanding, heart commitment, and ministry skills as a result of this week of training. Soli Deo gloria – for God's glory alone.