How are they to hear without someone preaching? 15 And how are they to preach unless they are sent? Romans 10:14-15
PPI completed its first year of Kingdom work on September 15. And what a year it has been – thanks to our Haitian partners, all of you, and a global pandemic!
A Great Start
We officially launched Partnership of Pastors International on September 15, 2019, by mailing our first ministry newsletter, unveiling our ministry website and Facebook page (welcome to the 21st century), and organizing a U.S. mission team for our training conference in February 2020.
You have encouraged us so much – praying and giving to get PPI off the ground! Thanks!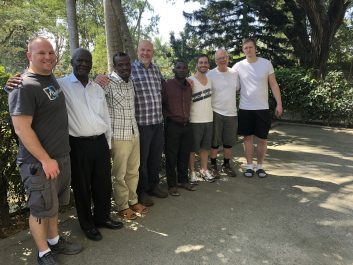 Our First New City
In February 2020, we took our first step of growth by offering training in a new city in Haiti. We equipped over 100 pastors in Cap Haitien, Haiti, a strategic city of 250,000 people on the north coast of Haiti. Lord willing, we will lead another training course there in July 2021. CLICK HERE to support our next training conferences.
Responding to COVID-19
We had to cancel our training conference in Haiti in July because of COVID 19. Instead God led us to provide food, medicines and Creole Bibles to Haitian believers in our "home base" city of Ouanaminthe. With the hard work of PPI friends -you! – and our partner pastors in Haiti, we put together over 500 food packages and 2500 medicine packets over the last four months. We also provided 234 Creole Bibles to pastors there. God continues to use these resources to save lives, invite people to Jesus, and strengthen churches. CLICK HERE for more on COVID-19 in Haiti
Looking Ahead to Year Two
We have hit the ground running in Year Two! Rena and I will take part in a pastors/missionaries conference in Colorado in early October. We are praying that God uses this retreat time to prepare us for fruitful, Spirit-led ministry this year and beyond.
We are focusing on developing church and individual partnerships this year. To do that we are sending PPI info packets to 30 churches each month, then following up with each church to set up in-person conversations. We have started with churches in Michigan so that I can continue as interim pastor at First Baptist Church in Bad Axe for the next several months. CLICK HERE to learn more about partnering financially with PPI.
We are also working toward training conferences in Haiti in February and July. Although COVID-19 has complicated travel to Haiti (and elsewhere), the Lord is opening doors for us to provide training courses in Haiti in 2021. Please pray with us for these Kingdom efforts.
Thank you for standing with us. We praise God for a good first year of Kingdom ministry, and we are trusting Him for greater impact for Christ in Year Two!