Welcome to our Summer Shop and Share store! If you haven't already, watch Ken's video on the "why" behind this special project. If you prefer to read rather than watch, CLICK HERE.
How It Works
Summer Shop and Share is easy and fun! Here's how it works:
SHOP – Look below at the needs PPI or our Haitian ministry team have right now. Read more about and choose one or more needs that resonate with you.
SHARE – Give toward that need as the Lord enables you. Click on the need to give online. Or if you prefer to write a check, use the materials and envelope you receive in the mail.
Enjoy shopping and sharing!
30 Ministry Team T-Shirts
Our Haitian ministry team identified PPI T-shirts as one of our next steps. Logo shirts identify our ministry team members for church leaders in our courses and also build team unity. We're planning an initial order of 30 colored T-shirts with our PPI logo on the front (in French) and, on the back, "EKIP MINISTÈ A" (MINISTRY TEAM) and "Mete spa pou levanjil Bondye a." Women 1:1 (Set apart for the gospel of God. (Romans 1:1)). Estimated cost – $360 ($12 per shirt). Share SHIRTS here
1 Summer Support-Raising Trip
For two weeks in August, Ken and Pastor Isaiah will travel the U.S. East Coast to update PPI supporters. We also will connect with potential supporters. So far, we have meetings scheduled in New York, New Jersey, Pennsylvania, and North Carolina. We'll drive a fuel-efficient car and, for the most part, will lodge with PPI friends and supporters. Estimated cost – $1500. Share SUPPORT TRIP here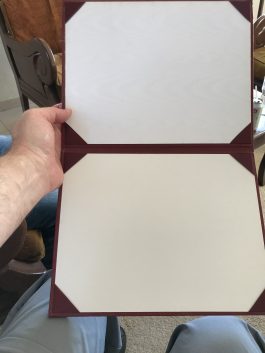 30 Diploma Covers for Graduation
In December, we will participate in the first graduation of The Institute of Evangelical Theology for the Providence of Haiti (ITEPHA). Pastor Jasmin established this Bible college as a direct result of PPI training in Ouanaminthe, and it's doing well! Ken and PPI Board members have given counsel to Pastor Jasmin and also teach classes for ITEPHA every time we're in Ouanaminthe. (In 2024, we'll order similar diploma covers for church leaders who complete ALL six PPI courses.) Estimated cost – $450 ($15 per diploma). Share DIPLOMA COVERS here
784 Thompson Bibles (French)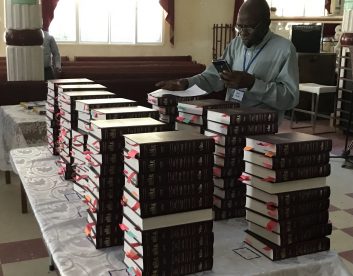 In 2024, as the Lord provides, we plan to offer 11 PPI courses in Haiti in eight key cities in four different Departments of the country. We award 112 Thompson Bibles every time we offer Course 1. The Thompson Chain Reference Bible is our foundational resource for training indigenous church leaders. We need a total of 784 Bibles for the rest of this year and for 2024! Estimated cost – $23,520 ($30 per Bible). Share THOMPSON BIBLES here
1500 Course Workbooks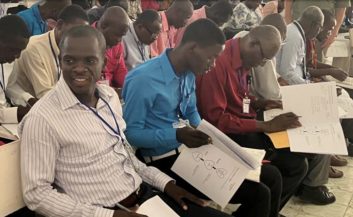 We use course workbooks, translated into Creole, in every PPI course. For the rest of this year and for 2024, we will print a total of 1500 course workbooks. Each course workbook includes instruction and assignments that deepen pastors' Biblical/theological knowledge, addresses their hearts and character, and sharpens their practical ministry/leadership skills. Estimated cost – $6000 ($40 for 10 workbooks). Share COURSE WORKBOOKS here
1 Communion Serving Set
Pastor Isaiah serves as the second (associate) pastor of a growing church in Ouanaminthe. The congregation of La Boussole (The Compass) shares communion every Sunday and needs a set of communion trays to make serving the Lord's Supper easier. The problem is, it's nearly impossible to find these items in Haiti, and if you do, they're very expensive. Isaiah asked me in April if I could find a communion set for his church and take the cost out of his PPI pay. I think we can do better than that! Let's bless this congregation with a communion set to remember the Lord's sacrifice for us. Estimated cost – $300. Share COMMUNION SERVING SET here
1000 Creole Bibles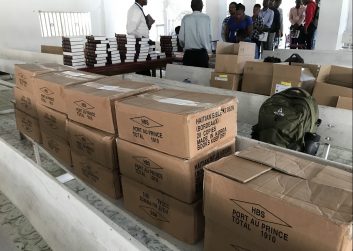 We provide extra ministry resources to church leaders in each PPI course, Creole Bibles being the most needed. Increasingly, Creole Bibles are difficult to get in Haiti, and they're expensive. Estimated cost – $13,500 ($13.50 per Bible). Share CREOLE BIBLES here
460 God-Pleasing Worship books
We give this biblical study of church worship (in Creole translation) to church leaders who complete Course 3 – Leading Jesus' Church (Mission and Strategy). Worship is a big deal in Haitian churches, as it is in American churches, and Haitian pastors appreciate this book. We'll reprint copies of this resource this fall in preparation for 2024. Estimated cost – $1840 ($20 for 5 books). Share God-Pleasing Worship books here
300 Moving Missions Forward books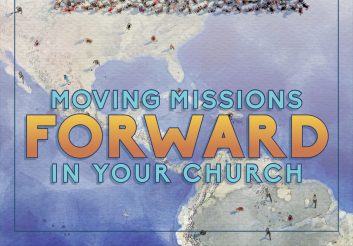 Ken is writing a missions resource for U.S. churches titled Moving Missions Forward in Your Church, which will be ready for publication soon. (More details to come!) This book is a Great Commission-centered and practical guide to assessing, re-focusing, and re-strategizing missions in the local church. All proceeds from the sale of this resource benefit PPI. Estimated cost of initial printing – $1500 ($25 for 5 books). Share in printing MMF books here