Everybody likes a good deal when they shop. We replaced a car in December to get an end-of-year price (it worked). A few nights ago, Rena and I combed through tons of pendant lights on Build.com to find the right one at the best price for our bathroom remodel (it didn't work). We shop online, we shop local, we sign up for loyalty and frequent flyer programs. But it's we who have been programmed. For over 100 years, companies, advertisers, even our government have influenced us to consume. And they – and we – have gotten darn good at it! Work. Buy. Repeat – this soul-numbing cycle defines life for too many Americans.
The truth is, we're not consumers. God created us and saved us to be sharers with others, not consumers for ourselves. Sharers not consumers. Jesus told us that we experience the greatest joy and purpose in our lives when we give to others, not just get for ourselves. Paul quotes the Lord in Acts 20:35:
In everything I did, I showed you that by this kind of hard work we must help the weak, remembering the words the Lord Jesus himself said: "It is more blessed to give than to receive."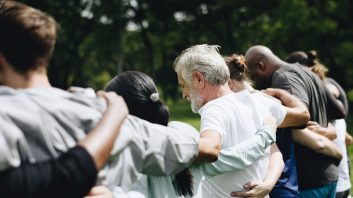 Think about it: When have you experienced the greatest joy and purpose? Was it in buying something special for yourself, or was it in giving something special to someone else? What about times you've had opportunity to share what God has given you with a person who needed it? Talk about joy! Talk about a sense of purpose! Talk about blessed!
No question, buying for ourselves gives us a temporary rush. (Neuroscientists tell us it literally gets our mental juices (dopamine) flowing!) That's why we talk about "retail therapy" and shopping or experience "addiction." But consumer high lets us down. It doesn't last so we go looking for the next shiny thing. This materialistic treadmill leaves so many Americans empty and unfulfilled – not to mention left with all the STUFF that clutters our houses, garages, sheds and storage units! We know instinctively that life isn't meant to be lived this way – especially as followers of Christ.
God has a simple solution to this materialistic morass: Stewardship. Biblical stewardship begins with ownership and moves to wise management with a focus on sharing.
Ownership – God owns it all, not us. Everything I am and own belongs to God.
Management – We manage what God entrusts to us for His purposes, not for our own desires.
These two truths alone have the potential to change our lives! Another stewardship principle becomes clear especially when we open our windows on the world:
Sharing – God intends for us to share what we have to help those in need.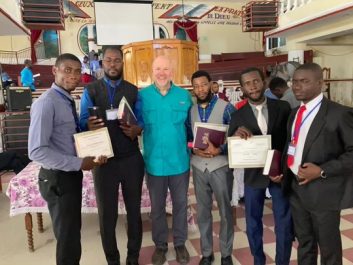 The Lord burned a question on my heart some years ago while in Haiti: How should I live as an American Christian when the basic needs – basic needs! – of so many brothers and sisters in places like Haiti consistently go unmet? I'm convinced the Lord wants me to answer that question by sharing my time, encouragement, love, knowledge, experience and resources with church leaders in Haiti and other developing nations. So many lack access to good ministry training and resources. As part of the wealthiest generation in the history of the Church, we are uniquely placed to do something about that!
If you know Christ, God has called you to take part in His mission around the world, to share your time, encouragement, love, knowledge, experience and resources with others, especially the poor. The Lord places some of us on the "front lines" internationally and many of us on the "supply lines." But He calls all of us to take part in Jesus' global mission.
Getting involved in our SUMMER SHOP AND SHARE is a great way to do that! It's a practical step of stewardship. It's also easy and fun! You simply identify a need PPI or our Haitian ministry team has right now – you'll see a number of different options – and give toward a need that resonates with you. You SHOP and then SHARE. You can CLICK BELOW to get started, or use the info you received in the mail. Happy shopping and sharing!