You know those times when you're puzzling and praying over the best way to do something – and then the light goes on? That happened to me in Gonaives, Haiti, a few weeks ago, and I'm excited to tell you about it! But first an update on our latest training conferences.
Conferences
From February 21-March 4, a total of 223 pastors in two northern cities in Haiti completed PPI's Course 1. Pastors were excited to be part of the training and were specially attentive and hard-working. Many spoke about the value of this training to their ministries. They also asked me to thank all PPI supporters for providing Thompson Bibles, Creole Bibles and other ministry tools. So on behalf of Haiti's pastors: Mèsi anpil anpil! (Thank you so very much!)
They further implored us to come back soon (one pastor asked about next month!) to offer our next training courses. By God's grace, we will return to Haiti in July and in December 2022 to train around 600 church leaders.
Clarity
What became clear on this trip is the best way to achieve our goal of training church leaders in all ten Departments of Haiti. (A "Department" in Haiti is like a large county or a small state.) Here it is: We will lead our six courses in succession in two key cities at a time over three years. We will offer PPI training in the "chief cities" of each of Haiti's ten Departments. Six courses in two cities at a time over three years.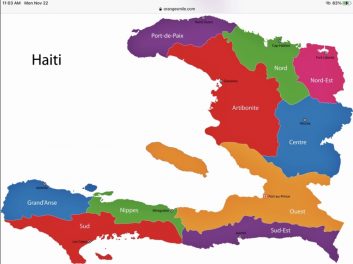 This strategy allows us to train pastors in each key city twice a year. That frequency maximizes pastors' learning and ministry skills, deepens our relationship with them for more heart impact, and enables us to better mentor our Haitian ministry teams to lead PPI courses themselves. And three years is the amount of time Jesus took to train His disciples! Six courses in two cities at a time over three years – That's our strategy.
So beginning in February 2023, as the Lord provides, we will travel to Haiti four times each year to offer 11-12 training courses. That schedule works best for our Haitian ministry teams and allows us to train over 1200 church leaders every year in Haiti. It also enables us to expand our training beyond Haiti, as the Lord leads us.
For more info, join us at our PPI update (Rasanble) on Tuesday, May 3, at 6:00-8:00pm. We plan to livestream this even for those of you who live outside this area – technology permitting. CLICK HERE for more details.
Commitment
We're ready to go! Will you help us do it? Here are ways to partner with us in training over 1200 church leaders each year in Haiti:
PRAY FOR US

as we continue living out God's calling to give back to church leaders who lack access to ministry training and resources. The Lord opens doors through the faithful prayers of His people.

CONTINUE TO SUPPORT US.

We thank the Lord for so many of you who "remember the poor" (Galatians 2:10) by investing faithfully and generously in training church leaders in Haiti and other developing countries.

JOIN OUR SUPPORT TEAM.

If you have not yet committed to regularly supporting PPI, please consider it! This is a step of stewardship and partnership in Jesus' mission.

Get more info on partnering with PPI HERE.
I heard a Christian leader say, "If God's vision for your ministry doesn't give you butterflies, it's not yet God's vision." Our vision and strategy for training pastors in Haiti and other developing countries give me butterflies. By God's grace and with your help, we're ready to go!