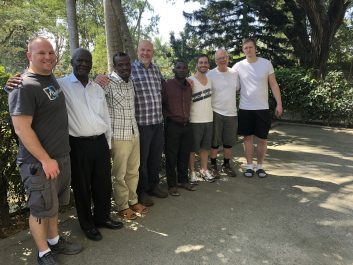 Thanks for your interest in serving at a Partnership of Pastors International (PPI) church leaders' training! You need to take three simple steps to be part of one of our U.S. Mission Teams: 1) Learn more, 2) Apply and 3) Prepare. Keep reading to learn more!
What PPI Is All About
Partnership of Pastors International is dedicated to encouraging, training and resourcing church leaders in Haiti and other developing countries. To do that we work with national pastors to offer short-term high impact training workshops using the Thompson Chain Reference Bible. You'll be involved in making that happen! Learn more about why and how we do ministry HERE.
What You'll Do
We limit our U.S. mission teams to no more than four (4) team members. That enables us to serve alongside a national coordination team to orchestrate all aspects of the training. You could work with a team on organizing all our training materials, or you may help with conference registration and attendance. You'll get to know international brothers and sisters in Christ and work shoulder to shoulder with them for the week. Sound good?
How Much It Costs
We do our best to keep our U.S. mission team expenses as low as possible. Your U.S. team member fee covers all flights, trip insurance, ground transportation, lodging, food, preparation materials, etc. If you join one of our mission teams, you will need to donate or raise this amount. We'll help you every step of the way!  CLICK HERE to see the dates of our upcoming pastors conferences and the U.S. team member fee for each. If you're curious, CLICK HERE to check out how much an entire training conference costs!
How to Apply and Prepare?
Now that you've learned a little more about who we are and what we do, are you ready to serve on one of our U.S. Mission Teams? CLICK HERE to apply.