Happy 2022, Everyone! We hope you had sweet times of celebrating our Savior's birth, enjoying time with family and friends, and looking forward to the new year. I think we naturally feel the "reset" of a new year – whatever our feelings about making New Year's resolutions. Rena and I have a friend who makes resolutions that she knows she can keep. One of mine could be: "I won't eat olives in 2022." I never eat olives. Or "I've decided not to run a half marathon this year." Many of you know that I would rather bike 100 miles than run 10 miles!
But setting good and godly goals for 2022 can be a good thing. If we aim at nothing, we hit it every time. God tells us to redeem our time (Ephesians 5:16). He puts physical goals in perspective compared to spiritual goals and encourages us to train ourselves to be godly (1 Timothy 4:6-8). Proverbs urges us again and again to make it our aim to get wisdom so that we live wisely in every area of life. So go ahead. Set some goals – physically, spiritually and relationally.
Here's a good yet simple goal for 2022: Read a good book. A book worth reading benefits us in so many ways. It makes us think – that's in short supply these days – it causes us to learn, and it feeds our souls. Amid all the good books out there – many that I recommend – I want to suggest two books directly connected to PPI.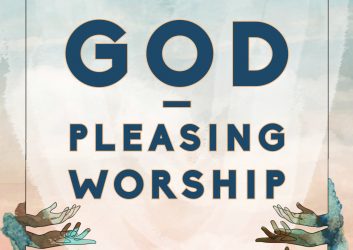 1. God-Pleasing Worship by my friend, Joe Talone, who's now in Heaven. If you haven't had a chance to read this book, I highly recommend you do. An elder at our former church told me on Sunday that he recently read God-Pleasing Worship and was really challenged by it. This book will teach and challenge you too – and it's an easy read. Order God-Pleasing Worship HERE if you don't already have it.
Part of the suggested donation helps us provide this book (in the Creole language) to Haitian pastors who complete PPI's Course 1. As I write, we're in the process of revising the translation and re-printing God-Pleasing Worship for our training conferences. We anticipate awarding over 500 copies of this book to Haitian church leaders in 2022 alone!
2. The MacGillivrays (A Short History of Some of Us). I began working on this book in earnest two years ago when I became the interim pastor of First Baptist Church in Bad Axe, Michigan. (When our part of the MacGillivray family emigrated to the United States, they landed in the Bad Axe area.) The book traces our family's journey from Scotland to Canada and finally to the United States. I explore the lives and times of our patriarchs and matriarchs and also follow the spiritual journey of my immediate family. Rena and I gave copies of this book to our extended family members at Christmas – and to many friends in Bad Axe last Sunday. They're telling us that they're really enjoying the book. You may enjoy this book, too! Order The MacGillivrays HERE.
NOTE: Rena and I published this book at personal expense, but plan to donate any and all proceeds from it to Partnership of Pastors International.
Whatever resolutions you and I make this year, I pray that all of us will live each moment for our Father's glory, that we will bear much fruit as His children and that, as a result, we will be filled with His joy. Happy New Year, friends!